BASEMENT REMODEL
Another sweat-equity project
The basement of our West Seattle craftsman had seen numerous remodels, most poorly done. In preparation for possibly putting the house up for sale, I took on a coherent refresh of three rooms. The bedroom is now done, with a new ceiling, steps to outdoors, trim, paint, and carpet. Now for the main room.
---
The large basement room has been a difficult project. I started by refreshing the drop-down ceiling with better tiles and LED lights. Next up was mudding the walls to remove the ugly texture, and then adding fresh paint. I also changed out the bathroom door; the new one has frosted-glass panels to give more light to the windowless main room.
But the most difficult part of the project was leveling the concrete for a new floating floor. For a large room, using self-leveling cement is really a two-person job. The material begins to set up in about 20 minutes, and you have to work fast to spread it around. Working alone, it took me over a week and several pours to complete the job — and even at that, the finished surface was still not perfectly level (an eighth of an inch or less of change over six feet).
With the floor as level as I could make it, I installed the underlayment and started installing the floating, Oak flooring. That part went relatively quickly, but the key is checking the squareness of the room. This being an old craftsman house, the walls were a bit out of whack. It's also important to consider which corner to start with. I began with the longest and straightest wall.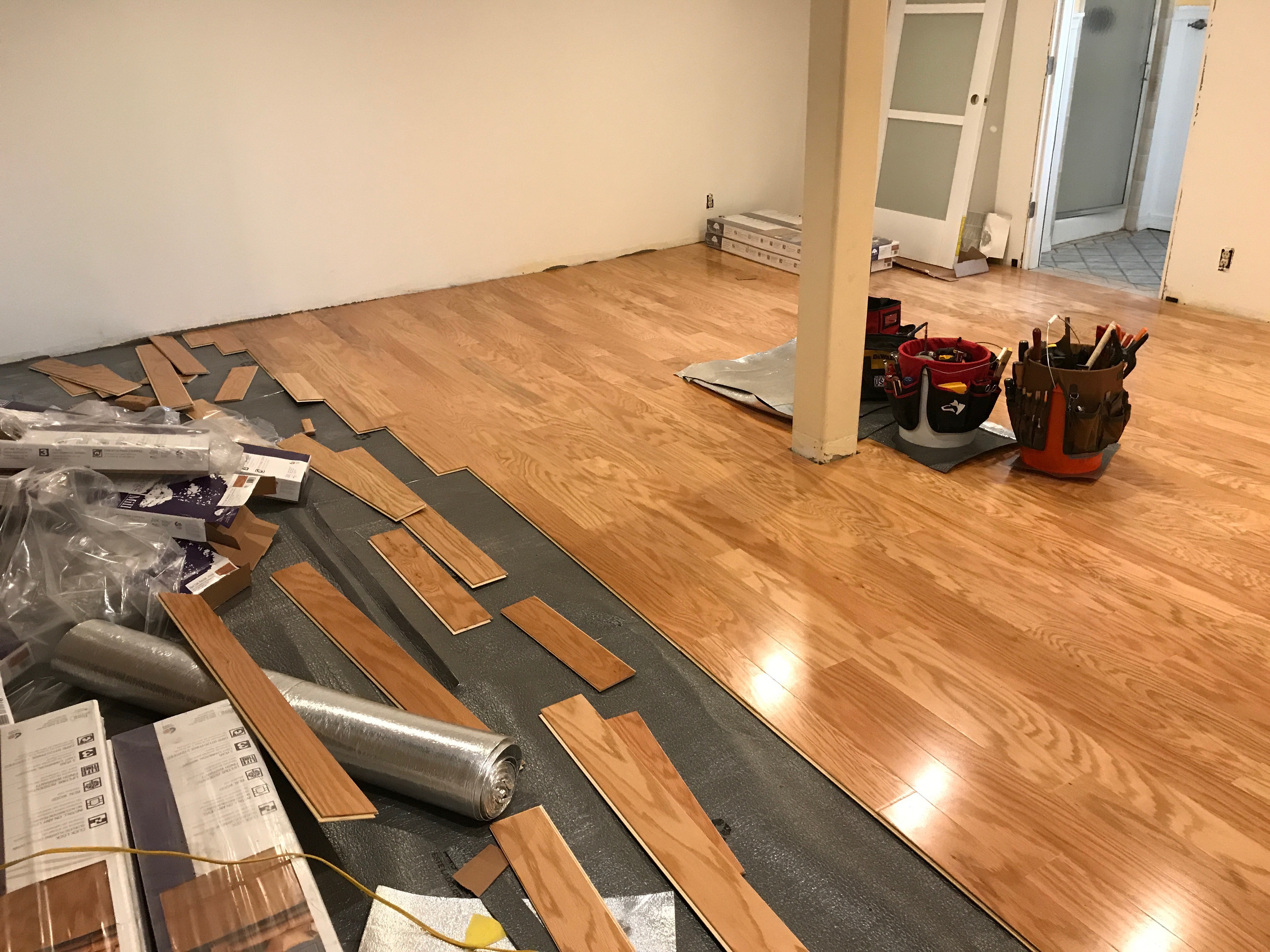 The basement once had an ugly and nonfunctional fireplace with red-painted bricks. It was painful to look at. So several years ago, I re-framed the wall around the bricks, added cedar trim and mantle, and had an attractive and efficient gas insert installed. We then sealed up the wall and placed slate tiles around the insert. The new wood floor blends in nicely.